The Willow Pump, Reviewed:
The Willow Pump is a game changer.
This is a hands free all in one breast pump that fits right inside your bra. It slides in and fits comfortably, there are no tubes and bottles dangling and protruding, and the milk bags are tucked right in there guaranteeing there will be no spilling. If you're a mama on the move – working and pumping, or pumping while traveling the extra money you'll spend on The Willow Pump will give you all the few extra dollars are well worth it when you get your normal life back.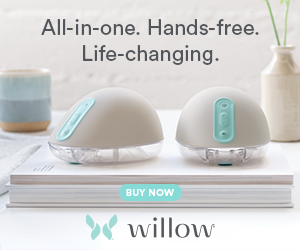 How does it work?
Willow Pump allows you to pump anywhere and in any direction. You could do yoga, drive, play with your baby or fly on an airplane while wearing the pump. Willow uses a unique suctioning technology which ensures you are fully mobile and no spills guaranteed.
The smart pump senses your let down and the Willow app tracks your milk production.
Everything happens inside the pump, inside your bra. Milk flows into the spill proof milk bag inside the pump. The pump is placed over your breast and the flanges attach to the milk bag.
What's extra special about this pump?
The pump only has two parts to clean. The flanges. Its also dishwasher safe. If you're in an airplane or at a gas station on a long road trip this will be an easy and quick clean.
Willow pump is exceptionally silent so pump discreetly in your airplane seat. Your neighbor will likely not notice at all.
The Willow app not only tracks milk output, it also tracks your session history and will give you personalized pumping tips. App is compatible with both iPhone and Android.
There are 7 levels of suction on The Willow Pump which is what you will get with any hospital grade pump.
It comes with a rechargeable battery that will last for 5 pumping sessions. Enough to easily get you through the day, a long flight or long drive.
Does insurance cover Willow Pump?
Yes. You can pay for The Willow Pump and accessories at checkout with your HSA or FSA debit card. Alternatively, you can pay with your regular credit or debit card and submit your receipt to your healthcare insurance for reimbursement.
What's Included with your Willow Pump Purchase
2 Willow Pumps, 2x 24mm Flanges(27mm Flanges Ship Separately)
2 Flextubes™, 24 4 oz. Milk Bags
Charger, 2 Cleaning Brushes, 2 Carrying Bags